An international musical cultural exchange with the aim of bringing together professionals, amateurs and students , singers, choristers, conductors, musicians, dancers, actors.  13 | 23 June   Arnhem, Nijmegen, Hengelo, Almere, Amsterdam.
A lyric opera, a sacred concert, a gala concert .
Artistic direction by  Stefano Conti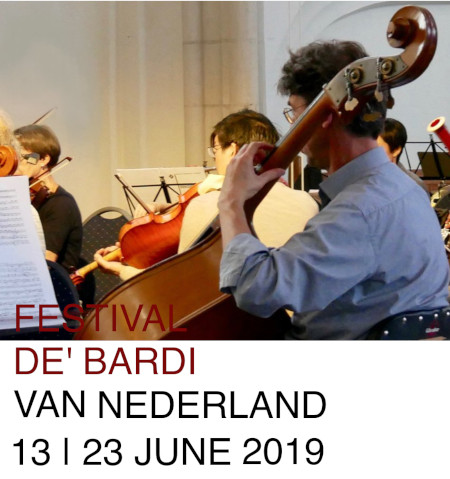 Orchestra dei Bardi:
Bernadine Snijder, Judy van der Lijke, Florien Rauws, Bronte Sun, Khaled Kassem, Angela Kreeftmeijer, Guido Cattani, Patricia van Eijndthoven, Richard van Hoorn, Irene de Graauw, Frits Ruyten, Petra Philipsen, Xiaoling Huang, Herbie Liu, Margreet van der Kleij, Annerie Hendriks te Rijdt, Saskia te Velde, Wik Ornée, Cecile Stevens, Sofia Baltussen, Joop Baltussen, Annemie van der Ven, Olga Nederkoorn, Adrian Martig, Annelies vanden Berg, José Juten, Lukas Konecny, Carolina Tabares Mafla, Ivet van der Eerde, Theo Verheijden, Alette Krabman, Henny van Heertum, Heleen Schoorl
Ellen Meijer, Jan Jouke van den Heuvel.
Creation of set and costume: Sacha Valentine di Maio, Emanuela Marinoni, Mario Zamboni, Sergio Carrera | Make-up: Chantal Fest van den Bruele | Graphic design: Eduardo Perez Gonzales | Orchestra manager: Paola Venuti | Production assistent: Cinzia Mancini | Press: Lia Hendriks, Bob Janssen
Artistic Direction: Stefano Conti
Produced by: Almaclaudia Production